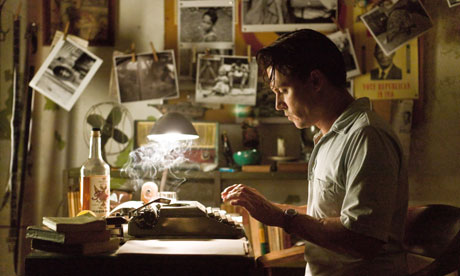 Johnny Depp as young reporter Paul Kemp in
The Rum Diary
, based on a
Hunter S. Thompson
novel.
If I haven't said it often enough, then here it is...If there's a Hollywood actor I admire and can down right act it's Johnny Depp and I enjoy any personal interviews that he does and he definitely has it figured out...Heck anything he touches turns into gold, really an amazing being!!! Keep it up Johnny...#Love~ Read the UK Guardian article below and couldn't resist sharing it here for those who adore him like I do, knock yourselves out~:))

~>>>>>>>>>>>>>>>>>>>>>>>>>>>>>>>>>>>>>>>>>>>>>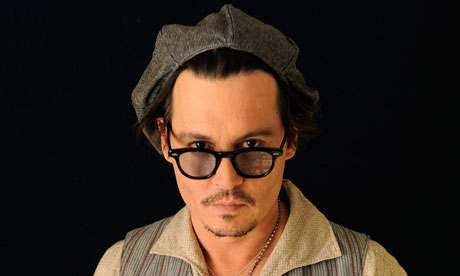 The Rum Diary star on his love of Europe, flying by private jet and why he can't stop smoking...Article by Decca Aitkenhead:
In the weeks leading up to this interview, I began to think there must be some law that makes it illegal not to love Johnny Depp. Everyone melts into a puddle at the mention of his name. Men go even loopier than women – and the higher men rank on the cool-ometer of fame, the more in love with Depp they seem to be. Keith Richards, Brad Pitt, Marilyn Manson, the Gallagher brothers – the dudes all adore Johnny – while this month's GQ anoints him "the world's coolest actor". The director of Withnail & I was only talked out of retirement to make Depp's latest movie "because it was for Johnny", and recently Ricky Gervais was swooning in this paper: "His emails are like poetry. He's made of bohemia."
What can Depp do to inspire all of this? I wasn't sure that the chance to try to find out would ever actually happen. The mythology surrounding Depp casts him as a sort of Scarlet Pimpernel of Hollywood, so notoriously elusive that one director who flew to London and spent days searching for him observed that the secret to signing Depp "is finding him". He loathes the media, once threatened the paparazzi with a plank, and at one memorable Cannes film festival cancelled all his interviews and refused to get out of bed. But after a long and involved game of on-off, on-off, on-again ping pong, last Friday the door to a discreet London hotel suite swings open, and there he is, hanging out of the window smoking.

Depp looks like he should be in Bon Jovi, or behind a stall selling Zippos in Camden market. The shirt is extravagantly ripped, the jewellery is heavily goth, the glasses are tinted and the tattoos wrap around him like climbing ivy. His voice loiters somewhere between a drawl and a growl – a deep Kentucky slurry of mumbles – but punctuated by surprise bursts of Queen's English, with the odd anglicism ("take a gander at this") thrown in, making him sound like Tom Waits auditioning for My Fair Lady.

At 48, Depp's face remains, if no longer quite ethereal, then still breathtakingly beautiful – creamy smooth, freakishly symmetrical, with a thick chop of chocolate hair untroubled by any trace of grey. The actor has spent most of his career trying to abdicate from the position of Hollywood sex symbol, but there appears to be nothing he can do about the tenacity of his beauty. And yet, the very first thing out of his mouth – once he's stubbed the fag out – gives a pretty good idea of how he would prefer to be seen, and how he sees himself.

"In Los Angeles, the hoity toities, the beautiful people, will sit on Sunset Strip and have their meal at these kind of fancy restaurants where no one can smoke – but you can inhale car fumes all you like." He shakes his head. "I mean, that to me says it all."

Smoking is a useful metaphor for Depp's self-image – renegade, European, rough around the edges. He did manage to give it up for two and a half years, and despite having to smoke in almost every scene of his new film, The Rum Diary. --"Just fake things, I think they're made of cured leather or something, they're really hideous, you light it and it smells like a tyre burning" he says... – it was only on the journey home that nicotine reclaimed him.

"One bang on [the director] Bruce Robinson's horrible little Café Crème cigar. One bang – yeah, one hit and it was over." Robinson, for his part, fell off the wagon while making The Rum Diary and began drinking again. "Yeah," Depp grins, "it was the gift we gave each other.

"I just said: 'Come on, give me a bang.' Bruce and I was in the plane, and I just said: 'Oh come on.' You know, we'd had a bit to drink – and …" He mimes taking a drag. On the plane? "On the plane, mmmm." I look puzzled. He looks momentarily bashful. "Well, it was a private plane. On a private plane you can smoke. It makes it an incredibly expensive habit, of course," he shrugs, "cos you can only smoke on a private plane."

Actually, he says, smoking's not the only reason he only ever flies private. "The commercial flight thing, it just gets a little weird when you're standing in line and suddenly you're not just a guy standing in line any more, you become sort of novelty boy."

Ever since Depp became a teen idol in the 80s TV series 21 Jump Street, the star has been at war with his own fame. An accidental actor, he came to LA in his teens hoping for a record deal for his rock band, but ended up doing telesales until he fell into acting, and before he knew it he was an international pin-up. Depp spent most of the 80s and 90s getting very drunk, going out with Kate Moss and Winona Ryder, brawling with photographers and generating more of the very publicity he found so oppressive. No amount of dark or quirky leftfield roles – Edward Scissorhands, Ed Wood, Don Juan DeMarco – could get him out of the gossip columns.

"I mean, all those films didn't do well at the box office. But I still had paparazzi chasing my tail, so it was the weirdest thing in the world. Everywhere you went you were on display. It was always some kind of strange attack on the senses; I was never able to embrace it. So self-medication," meaning drink and drugs, "was just to be able to deal with it."

That strategy lasted until the birth of his daughter, Lily-Rose, in 1999, to the French actor and singer Vanessa Paradis which he credits with changing - even saving - his life. The couple retreated behind the walls of homes in Paris, the Bahamas and the south of France, had a son, Jack, now nine, and devoted themselves to a private family life, growing vegetables and tending vineyards, with Depp resurfacing only to make critically acclaimed, if commercially unspectacular, films. It sounds like an idyll of wholesome simplicity and artistic integrity. The only snag is "I just don't go out. I just don't go anywhere. Just don't leave home."

It's a strange profession where the prize for success is house arrest, isn't it? "It's a very privileged opportunity I've been given, obviously. You know, the benefits are certainly very good," he smiles. "But there is a trade-off, as with anything. Somebody's always going to bring you the bill. The invoice comes." And the bill is his liberty.

Depp might have been allowed to recover some of his freedom by now, were it not for one choice he made 10 years ago. It didn't just win him his first Oscar nomination; it has made him the highest-paid movie star of all time, earning $75m between June 2009 and June 2010 alone. Award-winning performances in Charlie and the Chocolate Factory, Finding Neverland and Sweeney Todd have secured his metamorphosis into box office gold – and all because of that one performance, as Captain Jack Sparrow in the first Pirates of the Caribbean film.

Did he anticipate what the part would do to his career? -- "Not really, no. Pirates was a film I did just like any other one, I made that choice the same way I made every other choice."

Knowing what he knows now, I wonder if he'd have thought twice before making it. --"I wouldn't change anything, no. Because I think I went into it innocently, and it became what it became. And now they want to tear me down. Instantly, as soon as I did Pirates II, they say: 'Oh, he's selling out.' What the fuck does that mean, selling out? What if I did Ed Wood II, is that selling out? I mean, it's not like I was ever looking to become franchise boy, I was never looking to become anything like that. I just latched on to a character I loved."

Becoming "franchise boy" has in fact done nothing to diminish Depp's credibility. But I'm not sure any of his films really account for his status as the world's coolest actor, or make much of a difference either way. It can't be down to his beauty alone either, or men wouldn't lose their heads around him. I think we get closer to an explanation when Depp talks about The Rum Diary, and his friendship with Hunter S. Thompson.The film is based on an unpublished novel Depp found in Thompson's basement in the 90s. Heavily autobiographical, it tells the story of a hard-drinking young reporter called Paul Kemp who goes to work for a paper in Puerto Rico in 1960, and becomes outraged by the corruption and devastation wreaked by American capitalism's arrival on the island. It turns into a tale of heroic journalistic integrity – but not, in truth, a good film.
The older, LSD-addled version of Hunter S. Thompson Depp played in "Fear and Loathing in Las Vegas" was anarchic and funny and clever – whereas the younger incarnation as Kemp is naive, dreadfully earnest and takes himself and his notion of Being A Writer so seriously that only the most impressionable student journalist could watch without cringing. Yet to Depp, Kemp is the ultimate romantic hero – uncompromised, irony-free – and his idolisation of the writer becomes almost breathless.